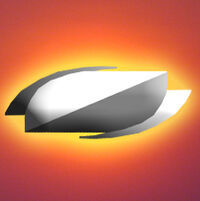 The Galactic Democracy was the ruling government of the galaxy, until the establishment of the Galactic Dictatorship.
The Democracy, led by a Supreme Pitza, had a supposedly democratic government that was able to sustain itself for thousands of years. For most of its duration as the dominant galactic power, the Democracy did not style itself as a strong centralized government, but rather as a union or alliance of sovereign planets for the purposes of promoting trade, mediating disputes, mutual protection, and all that boring political stuff.
In its latest years, it was a benevolent—though ineffective—government tied up in layers of bureaucracy, whining and small claims.
History
[
]
Decline of the Democracy
[
]
The end of democracy
[
]
Legacy
[
]
Government and Politics
[
]
Legislative
[
]
Executive
[
]
Judicial
[
]
Relationship with the Jebi Order
[
]
Military
[
]
Behind the Scenes
[
]
Appearances
[
]