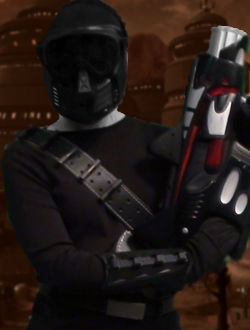 Write the first paragraph of your article here.
Biography
Edit
UNDER CONSTRUCTION
To be revealed in Return of the Smuggler!
Behind the Scenes
Edit
N'Clear Wessel was played by Emily Van Pelt. N'Clear is intended to be a generic bounty hunter, but her name is inspired by two sources. The first is the bounty hunter Zam Wessel from Attack of the Clones. The second is a famous line spoken by Chekov in Star Trek IV: The Voyage Home. Stuck in the 1980's, he asks a policeman where they can find Nuclear Vessels, only to repeatedly mispronounce it "noo-cle-ar wessels".